Cristian (Chile/USA), Matias (Argentina), Natalia (Argentina), Pablo (Argentina), Brad (USA), Melissa (USA) and Jackie (Britain) arrived at the Borealis Guesthouse in south-east Rovaniemi Wednesday afternoon to register for the Winter Swimming World Championships at Hotel Pohjanhovi along the Ounaskoski River. It is amazing to know there are over 34 countries representing at the Championships, with over 1,200 swimmers taking part in the festivities! Cristian and I went and registered for our events, and were greeted with big smiles and warm hearts that we traveled as far as we did for event. The Finnish people are very accommodating, as we could not have asked for better hosts! Every time I turned around, I was meeting someone new; it is just an incredible feeling to be able to connect with swimmers from around the world. Russia has the majority of the swimmers at the event, and we have been doing our best to communicate with them. Several of the swimmers spoke broken English, so it was neat to be able to try and understand each other. Melissa is almost fluent in Russian, so that is very helpful! We took a few trips over to check out the 'fishing hole' (as I call it) where the competition was being held, as it is truly remarkable how they fashioned the ice and snow structures along the river bank.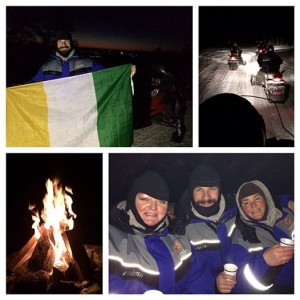 We met up with Nuala Moore and Anne-Marie Ward from Ireland before heading over to the 450m informational meeting. I should have signed up for the event prior, however I am just sticking with the 25m and 50m freestyle (Saturday and Sunday) and the 4 x 25m freestyle relay (Sunday) because I want to focus on the sprint events. I have been going stir crazy this week, as I have not swum at all since Dover Harbor on Monday with Adam; this is not easy to do for me that know how I get when I cannot exercise! (ha) After the meeting (which was translated in Russian and English) Anne-Marie, Nuala and I took a snowmobile excursion up above the Arctic Circle to view the Northern Lights! It was an awesome experience to be that remote into the wilderness, sharing the experience with people from around the world. I did a double snowmobile with my new Aussie (pronounced 'Ozzy' for us Americans) friend, Jillian Churcher who was traveling through Europe. We took off along the Ounaskoski River, and up into northern Lapland where we stopped to grill sausages, elk and cheese sandwiches, warm red berry juice and toasted marshmallows! It was quite welcomed as I had not ate since breakfast, and as usual, consumed whatever was left over that was not ate; never leave food to be thrown away! We took pictures as best we could of the sky, however the pictures did not come out so well. It's OK though, because I couldn't believe how beautiful it was out there; the dark sky, bright stars and the faint glow of the green lights was something I cannot describe in works. I am blessed to have seen such beauty! We returned home around 11:30pm, and I took a cab ride back to the Borealis Guesthouse where I turned in for the night.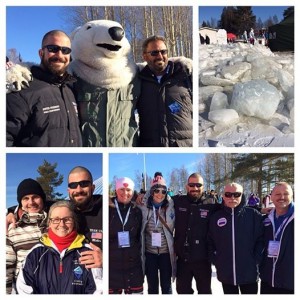 The morning brought with it a hearty breakfast of meat, cheese, pickle and tomato sandwich, banana, muesli, hard-boiled egg, red berry juice and coffee. We finished eating, and left to get ready to watch Jackie swim the 450m 'endurance swim' in the ice. Cristian and I parked ourselves on the other side of the pool (out towards the river) with some other swimmers, however we were asked to go back over to the other side due to the risk of the ice cracking due to the weight of so many people. I don't believe anything was going to crack, because that river was frozen solid! Unfortunately, a Russian swimmer suffered a heart-attack around 300m into his swim, and medical personnel had to rescue him from the water where he was having CPR done on his in the ambulance before being escorted up to the hospital; at this point we do not know if he survived. It is a start reality that anything extreme in nature is a risk, however, without knowing his background or training, I hope he was conditioned for the cold and not doing the long swim in ice water on a whim; thoughts and prayers with him and his team mates. Jackie had already lined up for her swim, when they took about 30-minutes break while the rescue staff had time to return to the competition site after taking the Russian to the hospital.
After Jackie and Cristian swam, we left for an early dinner, briefly went back to the hotel, changed, and came back to the river, however we unfortunately didn't make it back in time to see Brad, Melissa, Ram (South Africa) and Matias swim, however they did wonderful, and received awards in their age groups! We all took a sled ride (pulled by a snowmobile) the 'long way' back to downtown Rovaniemi where we watched the Opening Ceremonies, and clapped along as they presented awards for the Top 3 finishers in their respected age groups. The town was alive, and the stage was brilliantly lit in the frigid winter air of the night. It was around -10C outside, and you could feel the sting of the cold after a while of standing around. A group of us ate dinner at the Monte Rosa restaurant, where I dined on 'chips' (hand-cut French fries in the States) and the Royal Burger, which I believe was reindeer meat, and was very tasty! After a round of drinks and some wonderful story-telling, we returned back to our Borealis Guesthouse via a large cab and retired for the evening. This morning, we all ate breakfast together, and then Cristian set off for his 25m breast stroke, Jackie set off on a walkabout and Matias, Pablo and Natalia went to find the Santa Claus village. Very excited to cheer everyone on today, and get even more excited for my events tomorrow!!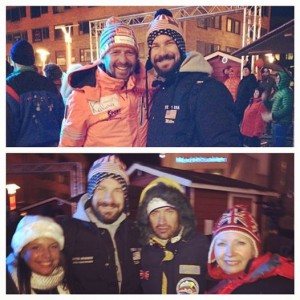 Experiencing what I did these past few days was truly awe-inspiring. The opportunity to meet swimmers (extremists) from around the world is a real blessing. Even though we may not understand each other, we have a mutual respect for what it takes to dip into the unknown in life and come out a stronger person. I know if there is one thing I've learned over the years of meeting people and traveling in foreign land, is that people from all walks of life are able to bond together in peace and harmony. It is a shame our governments do not work as well as we do this week, but perhaps the example we share can spark a fire to show that everyone can exist together as one.
With love and respect,
Darren