Darren utilizes a powerful collaboration of concepts acquired from completing some of the world's toughest endurance challenges, coupled with over a decade of financial sales experience at Fortune 500 firms. His unique and fresh approach empowers his audience by leveraging their passions to drive their success. Young and tenacious, Darren's approach to professional speaking centers around creating a stronger, more determined individual – not just a better salesman. His approach to life has earned him acclaim as a philanthropist and endurance athlete, but his humbled nature reminds the audience of a common man with an unrivaled spirit for challenging life!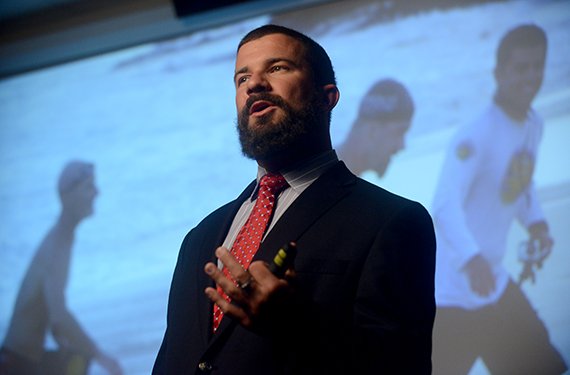 On The Stage
Darren speaks under his personal motto 'Every Breath A Gift', highlighting the 'F.O.R.E.V.E.R. Essentials' by incorporating lessons learned through endurance athletics and the corporate environment. He uses these essentials to motivate his audience to strive for their full potential by learning to push their physical and mental limits.
For The Community
Darren co-founded the Forever Fund in December 2009. This foundation aids families in their struggle to afford the small costs associated with caring for their child in the infant cardiothoracic unit of UPMC Children's Hospital of Pittsburgh. A portion of all speaking proceeds will go to this great cause.
What's Next?
Darren is the first swimmer to complete the Ocean's Seven (seven long-distance open-water swims) on all first attempts, in addition to being the first American male. His passion for endurance athletics are a source of inspiration for his blog and his speaking engagements.